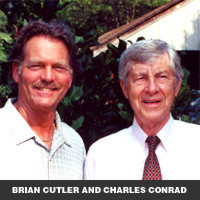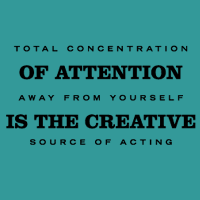 A WORD ABOUT CHARLES CONRAD AND HIS INFLUENCE ON THE COMMERCIAL ACTORS STUDIO

The Commercial Actors Studio has a powerful pedigree. Its lineage dates back to the Group Theater in 1930's New York. Sanford Meisner was a member of this legendary crew along with Lee Strasberg, Stella Adler, and Clifford Odetts. Meisner broke with the group over a difference of opinion with Strasberg involving the validity of many of Lee's teaching techniques. Meisner then founded the famous Neighborhood Playhouse, where he taught for some forty years. In the early fifties a young graduate of Carnegie Mellon University, Charles Erich Conrad was hired as Stanford's primary teaching assistant. In the ensuing ten years, Charles taught such acting luminaries as Robert Duvall, Susan Sarandon and Jack Nicholson. In the early sixties, Sanford sent Charles to Los Angeles to take over the training of the contract players at Twentieth Century Fox. Soon after, Charles left Sanford to start his own school. Much like the dispute between Lee and Sanford, Charles refined Sanford's teaching techniques. He eschewed classic Meisner exercises such as "repetition" and "door and activity" in favor of the simple, powerful handling of dialogue. To further support Charles' insight, acclaimed playwright, screenwriter and director David Mamet believes that "the Stanislavsky "Method" and the technique of the schools derived from it, is nonsense. "Emotional memory", "sense memory" and the tenets of the Method back to and including Stanislavsky's trilogy are a lot of hogwash. This "method" does not work; it cannot be practiced; it is, in theory, design, and supposed execution supererogatory, it is as useless as teaching pilots to flap their arms while in the cockpit in order to increase the lift of the plane."

Our founder, actor and coach Brian Cutler, studied and trained with Charles from 1970 to 1980. During that time period he was amazed by the simplicity and validity of Charles' process. As Brian began doing more television and film work he became aware of the large number of students that were attaining great success. This success further validated Brian's feeling that the process that Charles taught could have a powerful effect on an actor's career. Because of this process Brian moved into the guest star category and with Charles E. Conrad's blessings, he founded the studio in 1994 to carry on Charles' teaching. Dan Compo took over the studio in 2014, after 10 years studing the Conrad-Cutler technique with Brian. The tradition continues!